Step 1: Order your Design Blueprint
To order your Design online
Click here
or phone
888-826-0016
.
Prices of Design Blueprints, according to area:
▪ up to ¼ acre, $997
▪ up to 1 acre, $1,875
▪ up to 3 acres, $2,997
▪ customized prices for more than 3 acres
▪ call us for indoor Design Blueprints
Your Food Forest Abundance permaculture designer needs your specific location in order to determine your particular climate zone. We use zones that are more specific and useful than the simple USDA zones.
Step 2: Initial Consultation with your Designer
A Food Forest Abundance Designer will contact you. You or your local Co-op Partner can assist your Designer by taking photos. Some questions will be,
▪ What are your overall goals? How many people will eat from the food forest?
▪ What foods do you want and like?
▪ What grows on the area now? What is your soil like? If your local Co-op Partner has already taken a soil sample, you will know the percentage of sand, silt and clay in your soil.
▪ Where on your property do you want your food forest? What is the approximate area? Where are the doors and windows of your house? Where is the kitchen door, since it is most convenient for herbs to be placed nearby?
▪ How much sunshine and shade is on the area, and what are the Sun patterns during summer and winter?
▪ What water is on or flows through the area? Is the soil wet or dry, and when?
▪ Is the land sloped? Are there any erosion patterns, due to water flow or other factors?
▪ Are there wildlife, rodents or pests?

Step 3: Preliminary Design Blueprint and Further Consultation
In about two weeks, you will receive your Initial Design Blueprint. Look it over and let your Designer know any questions you have, any changes you would like, any plants you would like to add or subtract, and any additional considerations.
Step 4: Final Design Blueprint
You will then receive your Final Design Blueprint! You will also receive a list of all the plants in your design, notes from the Designer about your Food Forest, and a link to a digital book about permaculture, installation, watering, maintenance, and other helpful information.
All plants in your Design Blueprint will be species that thrive in
your
particular area.
Step 5: Meet your Local Co-op Partner
If you don't know a local Co-op Partner, a Food Forest Abundance Install Manager will put you in touch with someone, unless you wish to install your food forest yourself. Your local Co-op Partner will observe the area, take initial photos and measurements, and discuss any questions, concerns or options regarding installation of your food forest.
Step 6: Get your yard Flagged
Ask your local utility companies--electric, gas, water and sewage, to flag your yard. They come out and mark where the lines are to avoid any damage when digging. Ask if they can use flags rather than spray-painting your ground. If you have existing irrigation, your Co-op Partner also needs to know where the lines are.
Step 7: Contract for Installation of your Food Forest
Your Co-op Partner will furnish a quotation and contract to install your food forest. The contract will specify what plants will be installed, and what work will be done by the Co-op Partner and what is not included, along with estimated timelines.
▪ Timing can vary a great deal. Plants are in high demand and stock may be low, so it is wise to order early if possible. Most plants do best when transplanted when they are dormant, usually fall or spring. Some installations are best done in phases.
▪ Cost also varies a great deal, depending on how many saplings and plants are to be installed, soil conditions, whether existing plants are to be removed, whether fencing, irrigation or other structures are to be installed, and a myriad of other factors. It is wise to install saplings and bushes with well-established root systems since they will establish themselves and fruit sooner. The
average
cost of installation for a ⅛ acre back yard in the U.S.A. is about $18,000. For a single-phase installation, an initial payment of 75% of the total cost is typical. If desired, GoGreenGlobal (link below) may finance installation of your food forest.
Step 8: Installation of your Food Forest
Your Co-op Partner will install your food forest. This can take from one week to two months or more.
▪ It is important to keep mulch on newly planted installations in order to preserve moisture and temperature in the soil, like a natural forest. Mulch can be composed of leaves, wood chips, or pine needles. Avoid straw unless you are absolutely sure it has not been exposed to the new herbicide grazon, which does not break down for generations.
▪ In dry seasons, saplings and plants usually need to be watered twice a week for the first 1 or 2 weeks, then once a week for 1 or 2 months until your food forest is established. After that, water when the top inch or two of the soil is dry. Take care to avoid over-watering—excess watering is the most common cause of death of plants.
▪ If Food Forest for Life installs your Food Forest, we will furnish you with a list of the trees and plants we installed, along with the parts of the plants that are edible and their special properties.
Step 9: Relax and enjoy your Food Forest for Life!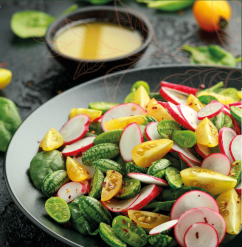 Click to download some favorite recipes
Leaves, roots, flowers and herbs are produced during the first year. Your food forest may produce some fruit in the 2nd year depending on the maturity and species that were planted, and reach full yield in the 3rd or 4th year.
▪ Fruit trees produce more fruit when they are pruned twice a year to allow air flow in between the branches. This pruning is optional.
▪ Artificial fertilizers can damage tender plant roots, so it's best to use only organic fertilizers, sparingly, away from the central trunk or root, and according to the instructions. Excess fertilizer is the second most common cause of death of plants.
▪ Enjoy your freedom from mowing, weeding, and harmful chemicals! Enjoy fresh food right from your yard! Enjoy the butterflies! Enjoy lower food bills! Enjoy Life!